Update: A new leak suggests the Google Pixel 3 will have a high-scoring camera. Plus, supposedly official leaked renders have given us another close look at the Google Pixel 3.
The Google Pixel 3 launch date is confirmed for October 9, and ahead of that leaks are beginning to gather pace. We're analyzing each Google Pixel 3 leak as it comes in and updating this article to keep you in the know.
The Google Pixel 3 is set to be an ideal smartphone for pure Android fans and camera enthusiasts, simply because the Pixel 2 and Pixel 2 XL were great.
And at this point there's seemingly little that we don't know about it, along with the larger Google Pixel 3 XL.
Every Google Pixel 3 rumor points to another machine-learning beast of a smartphone – one powered by the Android Pie update from day one. It's time to separate fact from fiction with a deep dive into its potential release date, price , design and specs.
Cut to the chase
What is Google Pixel 3? The next pure Android flagship from Google
What will Google Pixel 3 cost? Likely upwards of $649 / £629 / AU$1,079
When is the Pixel 3 launch? October 9, 2018
Google Pixel 3 release date
We now know that the Google Pixel 3 is coming on October 9, as Google has teased an event on that date.
While the phone isn't mentioned by name, the teaser includes the number 3, and since then Google has also splashed a big 3 up on its website, so there's no doubt that we'll see the Google Pixel 3 then.
An early October launch event would mean the Google Pixel 3 also likely lands in stores in October (last year, it landed October 19), and it might not be alone. Google is reportedly going to launch the Pixel 3 and Pixel 3 XL with an official Google Pixel Watch that runs Wear OS, the new name for Android Wear.
And if there was still any doubt that the Google Pixel 3 is definitely coming soon, it has also been certified by various agencies, most recently the NCC (National Communications Commission) in Taiwan, further suggesting an impending launch.
Google Pixel 3 price
The Google Pixel 3 price is a bigger mystery simply because smartphone prices have been climbing higher in the last twelve months. 
Just look at the Note 9 price and the iPhone XS price. There's room for Google to start charging more, but no sign that it definitely will.
The Google Pixel 2 started at $649 (£629, AU$1,079) at launch, and the Pixel 3 will have a similar price, and may edge slightly higher. 
Google Pixel 3 design and display
What have we here? Three colors teased on an official Japanese Google site, promoting the imminent arrival of the Pixel 3 and the Pixel 3 XL. It looks like the hues we're set for are white, black, and mint.
That wouldn't be too dissimilar to the coloring schemes that Google has gone for in the past: remember the Pixel 2 came in a "kinda blue" shade that seems to have been replaced by mint this time around.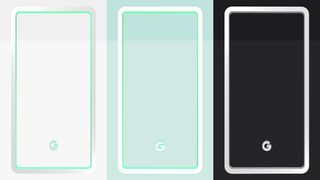 Our best look yet at the likely Google Pixel 3 takes the form of several photos shared by an anonymous Reddit user.
You can see them below, highlighting the dual-tone back, single-lens rear camera, dual-lens front-facing camera, large notch on the front, and rear-facing fingerprint scanner, while the right edge houses the power and volume buttons.
Image 1 of 3
Image 2 of 3
Image 3 of 3
We've also seen supposedly official renders, which show the phone in both black and white shades.
There's no sign of mint though, other than a mint-colored power button on the white handset, so that might actually be the closest we're getting to a mint shade.
Image 1 of 2
Image 2 of 2
We've also seen renders of the phone in a fabric case, like those sold for the Google Pixel 2 range, and there have also been various leaked renders from factory CADs (computer-aided designs), which show both the Pixel 3 and Pixel 3 XL from all angles.
You can see them below and will note that as in the images above they both have just a single-lens rear camera (something that's also seen in a leaked case picture), but that they seemingly have dual-lens front-facing cameras and – in the Pixel 3 XL's case – a notch.
There's no sign of a display notch on the standard Google Pixel 3 though.
The design on the rear of the phone looks similar to the Pixel 2, with a two-tone finish and a fingerprint scanner.
As well as the images, the same source says that the Pixel 3 will have a 5.4-inch screen and dimensions of 145.6 x 68.2 x 7.9mm, with the phone widening to 8.6mm where the camera sticks out.
Image 1 of 3
Image 2 of 3
Image 3 of 3
Those renders match up with things we'd heard previously. For example, a report talks about the Google Pixel 3, with 'people familiar with the matter' saying that the Pixel 3 will look a lot like the Pixel 2.
They go on to say that the Pixel 3 XL will have a bezel at the bottom of the screen, and that both phones will have an upgraded single-lens rear camera and could be built by Foxconn for the first time (that being the company that builds iPhones).
The claim that the Google Pixel 3 won't have a notch has been echoed elsewhere, with the source (@OnLeaks, who's reliable as leakers go) adding that the Pixel 3 screen is roughly 5.3 inches – sizes which are roughly the same as we've heard elsewhere.
Elsewhere, there's talk of a 5.5-inch 1080 x 2160 screen with an 18:9 aspect ratio and 440 pixels per inch, which is echoed in a more recent leak.
Leaks from renowned tipster Evan Blass, below, have also found their way online, confirming the designs of the new Pixel 3 phones.
Another source also claims that at least one Pixel 3 model will have a notch, and that it will use an OLED screen provided by LG. The Pixel 2 already uses OLED screens, so this is no surprise. 
Screen protectors supposedly for the two phones have also leaked. You can see them below and they match the design rumored above.
Google itself may also have slightly shown off the Pixel 3, as illustrations in the Android Pie beta show a phone with an edge-to-edge display – though this could just be a placeholder.
In any case, the images don't give away much, and don't quite match up with the other leaks we've seen, but you never know, they might be representative of the final phones.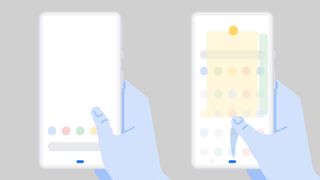 Google Pixel 3 name
There's little doubt as to what Google's upcoming phone will be called, but technically its name hasn't been confirmed yet.
That said, we have seen the Pixel 3 name mentioned by Google. Specifically, a mention of Pixel 3 has been found in code on the Android Open Source Project (AOSP) site, which all but confirms it's in the works.
The Google Pixel 3 names have yet to be confirmed, but last year there was a report that three new Pixel phones might be in the works, with codenames: "crosshatch", "albacore" and "blueline". 
It's worth noting also that all these code names are types of fish, which was true of previous Pixel handsets as well.
Google Pixel 3 camera
The cameras are perhaps the most interesting aspect of the Pixel 3 and we now know more about them, as sources claim that the dual-lens front-facing camera will be capable of better bokeh effects/portrait mode, and that one of its lenses will be wide-angle.
The front-facing camera will also apparently have a 'Super Selfies' feature, though it's not yet clear what this is.
And while the rear shooter is seemingly just a single-lens one, that doesn't mean it's not exciting, as the same sources say that it's capable of "incredible" low light shots and has a new Visual Core.
Visual Core is a chip that debuted in the Pixel 2 range, but while there it was used just to improve the processing of HDR+ shots, here it's apparently capable of more. Exactly what remains to be seen.
According to another leak, both front-facing cameras will be 8MP, but one will have an f/1.8 aperture, while the other will have a dual-aperture, being able to switch between f/1.8 and f/2.2.
We've also seen a suggestion that the Pixel 3 might have a strong camera, but not quite the best around. That's based on a claim that it's scored 107 on DxOMark (a respected camera review site).
The score hasn't been officially posted yet, so this is just a rumor for now, but that score would put it higher than the 98 achieved by the Google Pixel 2, but lower than the 109 of the Huawei P20 Pro. It's also lower than the 116 score that the same source claims the Huawei Mate 20 Pro will get.
Google Pixel 3 specs
The Google Pixel 3 specs aren't as exciting as the camera potential, but we know it will be faster than before if these internal components prove to be the real deal.
The Pixel 3 XL (and we assume the Pixel 3 will have matching specs) will reportedly use an octa-core Qualcomm chipset (almost certainly the Snapdragon 845), an Ardreno 630 GPU, and have 4GB of RAM, according to the unconfirmed benchmark leaks.
Another source has also said it will have a Snapdragon 845 chipset, apparently clocked at up to 2.8GHz and paired with a choice of 64GB or 128GB of storage, but no microSD card slot.
Gone are the original Pixel days that saw Google introducing a souped-up chipset from Qualcomm (like it did when premiering the Snapdragon 821). But the 845 chip has proven to be plenty fast in other flagship phones.
Elsewhere, there's talk of a 2,915mAh battery, up from the 2,700mAh one in the Google Pixel 2.
Google Pixel 3: what we want to see
The Pixel 2 and Pixel 2 XL got 4 stars and 4.5 stars in our reviews respectively, so there's still room for improvement, and adding the following features to the Google Pixel 3 would be a step in the right direction.
1. Smaller bezels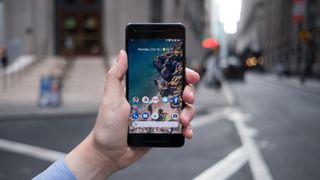 From the iPhone X to the Samsung Galaxy Note 8, many 2017 flagships have all but eliminated bezels, but not the Pixel 2.
This is a phone which still has quite large bezels above and below the screen, and while they serve a purpose (housing the front-facing speakers) we'd like to see them worked on for the Pixel 3.
Hopefully Google and its manufacturing partners will find a way to significantly slim down the bezels without sacrificing speakers on the front.
2. Customizable Active Edge
Active Edge on the Pixel 2 and Pixel 2 XL lets you squeeze the sides to launch Google Assistant. It's a handy feature, but unlike on the HTC U11 that's all it does and it can't be re-mapped.
For the Pixel 3 we want the feature to return, but we want it to be context-sensitive, so for example if used in the camera app it would perhaps take a photo, and for the core functionality to be customizable, so you can use it as a shortcut to whatever app or feature you want.
3. Camera app improvements
Despite just being a single-lens one, the camera on the Pixel 2 is among the best you'll find on a smartphone, but the software could use some work.
For example, we'd like gesture controls for timed photos and the ability to switch between the main and selfie cameras with a swipe, like you can on Samsung and LG phones.
They're little tweaks, but they'd make using the camera a little faster and a little more pleasant.
4. A return of the headphone jack
Despite taking a dig at Apple for ditching the headphone jack when launching the original Pixel, Google has also got rid of it for the Pixel 2, which is a decision we'd like to see reversed for the Pixel 3.
We don't expect that to happen, if anything ever more handsets are going to start removing the port, but for many users it's an inconvenience and the benefits of its removal just don't seem overly compelling.
5. Wireless charging
The Pixel 2 range has reasonable battery life and supports fast charging, but doesn't have wireless charging, which is a major omission, especially now even Apple is supporting it.
We expect wireless charging to become a lot more popular in the next year, thanks to the iPhone 8 and iPhone X, so it will stand out even more if the Pixel 3 doesn't support it.
6. Screen improvements
The standard Pixel 2 has just a 1080p screen, which isn't particularly sharp for a flagship in 2017, so we'd like to see it upgraded to QHD for the Pixel 3.
The Pixel 2 XL meanwhile is sharp enough, but in our review we found that the viewing angles aren't great and nor is it especially vibrant, so we'd like to see work done to improve those aspects for the Pixel 3 XL.
7. Better water resistance
The Pixel 2 range sports IP67 certification, which means it can survive being submerged up to 1 meter deep for up to 30 minutes.
That should be plenty, but these are flagship phones we're talking about and some rivals offer more. The Samsung Galaxy S8 for example has IP68 certification, meaning it can be submerged 1.5 meters deep for the same duration.
It's a small change, but one that could at the very least give buyers more peace of mind that their expensive purchase is fully protected against rain and spills.
Check out our review for the Google Pixel 2 below: